Haunted Houses in New York
Scattered from Albany to Montauk, New York has some of the most terrifying Haunted Houses of any state in the country. Taking influences from everything from horror film classics and urban legends, to shocking true events and local myths, these Haunted Houses are prepared to go all out in pursuit of your screams. In readying yourself for the experience, keep in mind that you're going to find yourself face-to-face with the world's most shocking monsters. You're going to see bloody scenes that are not for those that are even the least bit squeamish. You're going to have to ignore the blood-curdling screams and cries for help that are merely traps to lead you deeper into the madness. And that's just the beginning. Needless to say, you should absolutely be afraid.
---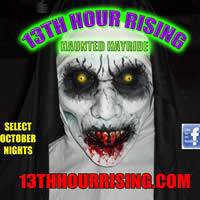 13th Hour Rising
Fulton, NY
You're INVITED... to a HIGH OCTANE, totally IMMERSIVE... HAUNTED HAYRIDE EVENT !! 13TH HOUR a dark space in time...waiting to DEVOUR you! FEARS, PHOBIAS, and INSECURITIES will be tested. Smell the sce... Read More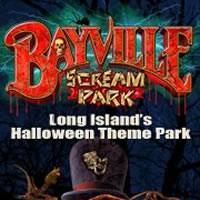 Bayville Scream Park
Bayville, NY
Bayville Screampark is Long Island's Halloween Theme Park. The largest Halloween attraction in the tri-state area with 6 terrifying haunted attractions at night and Kids' Not So Scary activities durin... Read More
---
---
Since many hours of travel time lie between each end of New York, some assistance in locating the state's haunts will help ensure that your Halloween season isn't lacking any must-see haunted attractions. Whether you're looking for a scare in Utica or Brooklyn, HauntedNY.com's interactive map is packed with the haunted entertainment you need to experience in the days and weeks leading up to Halloween.